At CBHS we help you manage your health challenges. We believe in offering you the services, support and tools you need to live your best life.
Our Better Living Programs are available to support eligible members towards a healthier lifestyle. Each Better Living Program is subject to its own eligibility criteria.
Contact us for more information and to confirm your eligibility for a program.
Better Living for chronic conditions
Our Better Living programs can guide and support you towards a healthier lifestyle. If you have any level of CBHS Corporate Hospital or package cover, you can access these programs at no additional charge.
545
545 members enrolled in Better Living programs in FY19.
60
60 is the average age of Better Living participants, but they're available to all ages.
75%
75% of Better Living participants increased their exercise days.
34.8%
On graduation, participants recorded an 34.8% increase on their mental wellbeing scores.
What is a chronic condition?
A chronic condition is any illness, disease or condition that's long term and persistent.
That could be diabetes, high cholesterol, high blood pressure or joint pain. It could be arthritis, osteoporosis, asthma, Parkinson's or dementia. It could include mood disorders like depression or anxiety, as well as heart and lung disease, Crohn's disease or multiple sclerosis. Obesity, cancer, chronic fatigue syndrome or sleep problems are all covered. If you have a condition not listed, please contact our Member Care team on 1300 654 123 to see if you could be eligible.
Are you at risk?
If you're at risk of developing a chronic condition – for example, if your Body Mass Index (BMI) isn't within a healthy range – you can also access the Better Living programs. Our Better Living prevention programs can help you preserve your health and hopefully avoid developing a chronic condition like type 2 diabetes or heart disease.
If you're not sure, call us on 1300 654 123.
How Better Living can help you
Better Living connects you with a team of health professionals who can guide, advise and support you. It's a bit like having a personal coach, only for health instead of fitness. You may be receiving treatment for your health condition already, but what else could make your life easier? What can increase your sense of wellbeing or help you make better decisions? With the right professional support, can you take guided steps to improve your daily life?
We think so.
Weight management: how Digital Wellness can help
Digital Wellness is part of our range of Better Living programs and it's focused on healthy weight management. The Digital Wellness program includes a range of tools to help you achieve your weight goals, including 24 weeks of the scientifically proven CSIRO Total Wellbeing Diet.
Just ask member Terry. He lost a whopping 100 kilos, thanks to Better Living and Digital Wellness. That's the equivalent of 500 wheels of brie or 4,545 Tim Tams.
"Joining the program probably saved my life – it certainly gave me my life back. I no longer live to eat, I eat to live."
Unfortunately, carrying extra weight can exacerbate chronic conditions, and those conditions can make losing weight more challenging.
With our help, you can break that vicious circle.
Conditions as serious as diabetes or high blood pressure can be managed or even reversed through a healthy and consistent diet and exercise plan that in most cases will result in some weight loss. A reduction of even 5% in body weight has been shown to have positive impacts on reducing risk factors.
Digital Wellness gives you all the tools you need to get your weight under control and your life back on track. That includes online coaching, nutritionist sessions by phone, weekly emails and peer support through a private Facebook group. Depending on your level of your cover and the health issues you face, the 24-week supported program could be fully funded.
Digital Wellness works
Statistics show that CBHS Corporate members who completed the 24-week Digital Wellness program lost an average of 6.8% of their body weight, with average improvements across all programs: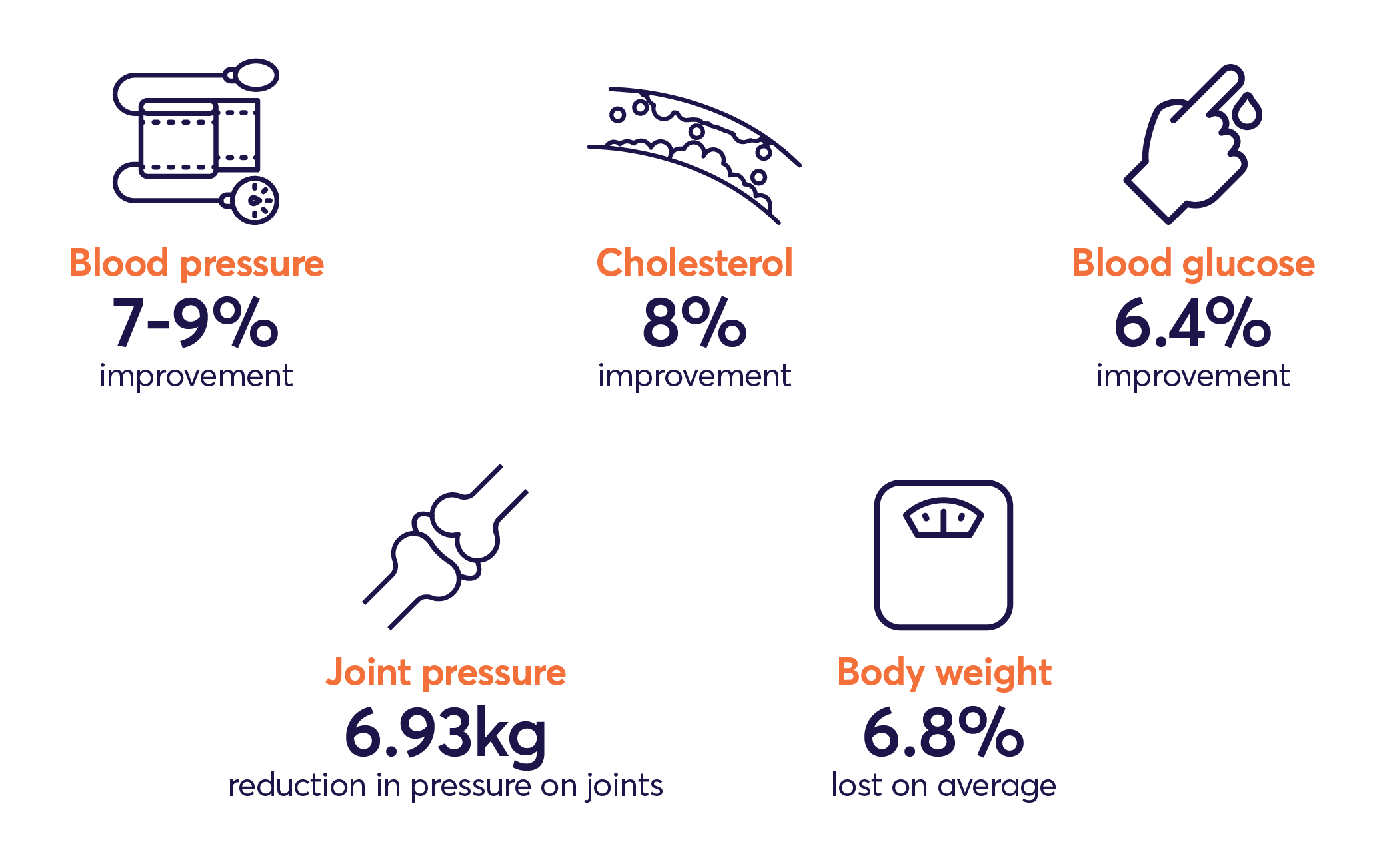 Another member who took on the Digital Wellness program with great success is CBHS Corporate member, Stuart from Penrith, NSW.
Stuart said, "At Week 14, I'm sitting at 21kg lost, which is 13% of my body weight. I've gone off three types of medication for blood pressure and diabetes (type 2) and honestly, it's been a fantastic result, I've got my doctor in my back corner saying he's never seen a patient do something like this, and I'm happy as."
He has since gone on to achieve even greater results.
Live better and live healthier when you join
a CBHS Corporate Better Living program.
All information contained in this article is intended for general information purposes only. The information provided should not be relied upon as medical advice and does not supersede or replace a consultation with a suitably qualified healthcare professional.