At CBHS we help you manage your health challenges. We believe in offering you the services, support and tools you need to live your best life.
Our Better Living Programs are available to support eligible members towards a healthier lifestyle. Each Better Living Program is subject to its own eligibility criteria.
Contact us for more information and to confirm your eligibility for a program.
We're here to help.
We're here to support you and your family before, during and after your hospital stay. It's part of our commitment to outstanding value and exceptional member care. If you have any questions, you can contact us any time before, during or after your admission. Here's what you need to consider if you know you have an upcoming hospital trip.

11.5 million
hospitalisations per year in Australia (FY19).
1
The #1 procedure our members access is colonoscopy.
55+
Babies and people over 55 are most likely to be admitted to hospital
Source: AIHW
Before you go into hospital
This section will help you plan your stay in hospital (Click or tap the expandable titles for more details).

You can avoid any unexpected out-of-pocket expenses by understanding what you're covered for before you go into hospital.
Check your level of cover - Log into your Member Centre or mobile app, or contact us and we'll check your level of cover.
Do you have an excess? - Members on some covers opt to pay an excess in return for lower premiums. An excess is the amount you pay towards the cost of your hospital admission before any benefit is payable. If you choose an excess, it means that when you go into hospital (same-day or overnight) you will pay the chosen excess amount directly to the hospital. The excess is only payable once per person up to a maximum of twice per couple/family membership per calendar year. Excesses do not apply to any dependant child insured on selected Hospital policies. Find out if you have an excess by checking your last CBHS Corporate cover statement or log into the Member Centre or app.
Waiting periods and pre-existing conditions - Waiting periods and pre-existing conditions can impact what benefits you get back, so it's important that you check them both. Find out more here or call us and we'll check for you.
Understand the difference between private and public - If you have hospital cover with CBHS Corporate, you can choose to receive treatment in a public or private hospital. Benefits vary depending on your choice of hospital, your level of cover and other factors, such as whether the hospital is a CBHS Corporate-agreement hospital.
Private hospital – CBHS Corporate holds agreements with an extensive range of Australian private hospitals and day surgeries. These agreements ensure hospital fees including bed, theatre, labour ward and intensive and coronary care fees are covered when admitted as a patient to hospital (subject to your level of cover). For charges incurred in a non-agreement hospital, you may only receive benefits similar to a public hospital shared room rate.
If you choose a non-agreement hospital you may incur out-of-pocket expenses for hospital related services, regardless of your level of cover.
Public hospital All CBHS Corporate Hospital covers provide benefits for certain treatments with your choice of doctor in a public hospital. No benefits are payable if the service or treatment is an exclusion.
Important note: Members should be aware that it is possible you will be placed on a public hospital waiting list even if you are admitted as a private patient in a public hospital.
Please note that restricted services can attract different rules. For example, if the service is restricted under your membership and you are staying in a private room in a public hospital, you may need to pay large out-of-pocket costs. However, this may not apply if the services are rendered in public hospitals in shared rooms. Find out more about CBHS Corporate's hospital cover here or call us on 1300 586 462.
Check for specialty and restricted services - specialty services can have benefit restrictions depending on your level of cover, so you might want to clarify with your doctor or hospital about any specialty services you'll be receiving.
Contact us if you have any questions about whether your service or product will be covered. You can also log into the Member Centre to find out if you're covered for restricted services. Depending on your cover, you may need to pay out-of-pocket expenses for restricted services.
Contact your GP and find the right specialist
You can ask your GP to refer you to a specialist who participates in the Access Gap Cover (AGC) scheme, or give you a list of specialists who might be willing to participate. AGC is designed to reduce or eliminate the medical 'gap'. The aim is for you to end up with less or, in some cases, no out-of-pocket medical expenses when you receive treatment at a private hospital as an inpatient.
TOP TIP: Ask your GP for an open referral so you can choose from a list of specialists, that way you're not locked into seeing one person.
There are several things you need to ask your specialist before you start treatment.
Ask him or her to explain your condition in plain language and outline the different treatment options.
Ask them to explain the risks and benefits of each option.
Make sure they tell you about all the medical professionals who will participate in your treatment so you understand the costs that might apply.
If a prosthesis (an artificial part to replace something in the body) is involved, check with your doctor about any out-of-pocket expenses. You will be covered up to at least the minimum benefit in the prosthesis list under the Government's Private Health Insurance legislation. You may want to discuss other issues such as recovery and continuing current medications while in treatment, and to also have the doctor provide you with a medical certificate for leave from work.
Please note that whether a doctor participates in the Access Gap Cover scheme or not is completely at his or her discretion. Doctors can choose to participate in the scheme on a patient-by-patient basis, so the fact that the doctor has participated in the scheme before doesn't guarantee that he or she will do so again.
Agreement versus non-agreement hospitals
Once your specialist has determined that you will need a hospital stay, they will nominate the hospital they prefer to work with. This is at their discretion. Sometimes they'll give you a choice of two or three hospitals. Once you know your options, check if they have an agreement with CBHS Corporate by using this search tool.
If the hospital has an agreement with us, you will be covered according to your Hospital coverage level. This might include accommodation, theatre and labour ward, intensive care and coronary care.
If your specialist has chosen a hospital that doesn't have an agreement with us, you will be covered up to pre-set limits – set by the Government – which may mean you incur large out-of-pocket costs. Restricted benefits (including no coverage for theatre or labour ward fees) apply to non-agreement private hospitals.
Define your hospital stay and treatment
Clarify what types of services or treatment you will receive. This makes it easier to check if your services are subject to restrictions or exclusions, and if you need to pay any out-of-pocket costs.
You'll be considered an admitted patient if you receive chemotherapy daily, so long as your hospital has an agreement with CBHS Corporate and admits you as a day patient. Similarly, you might be able to claim benefits from your Hospital cover if you receive home nursing from the hospital after discharge.
By contrast, you're not considered an admitted patient for minor medical procedures received in your doctor's rooms. This attracts a non-admitted theatre fee from your doctor and is partially covered under Premium Package (Gold) and Advanced Extras. Please note that in this case the bill for doctor services is payable by Medicare only.
Informed financial consent
Before you go into hospital, get a written quote from all the specialists and medical professionals who will be involved in your treatment. This may include your anaesthetist, surgeon, radiologist and pathologist. An itemised quote is known as informed financial consent, and you are legally entitled to request it.
You should also get a quote from us to understand any hospital out-of-pocket costs. That way, you'll be aware of all your out-of-pocket expenses before your admission.
Understand the claiming process
The two items you'll be claiming for are your hospital fees and your doctor and specialist bills.
Your hospital will bill us directly for any hospital fees. If you're required to pay any part of your admission for example your excess, you pay this fee directly to the hospital. Ask the hospital about their procedure for payment.
If your doctors and specialists participate in the Access Gap Cover scheme, they should bill us directly. If you receive a bill from an Access Gap doctor, forward it to us for payment, not Medicare. We'll process it and forward it to Medicare on your behalf.
If your doctors and specialist don't participate in the Access Gap Cover scheme, submit the bill to Medicare and complete a two-way form to claim your benefits. Medicare will process the claim and we can then provide you with your benefits.
Your hospital stay
The right preparation can ensure your surgery is able to go ahead on the day. Make sure you have read your surgeon's preparation advice well in advance of your admission day. There will be important information such as when you need to begin fasting if you're having surgery.
If you forget to follow the instructions, your surgery may have to be postponed for your safety.
Try your best to stay well and avoid picking up any bugs like colds or flus. If you become unwell in the days leading up to your procedure, let your specialist or the hospital know as soon as you can and they can advise you further on what to do.
Other things to consider is your transport to and from the hospital (you may not be allowed or able to drive yourself home). Some people also like to do some meal-prep before they go, so they have a stash of frozen meals to return home to, especially if you live alone and don't have anyone to help with the chores.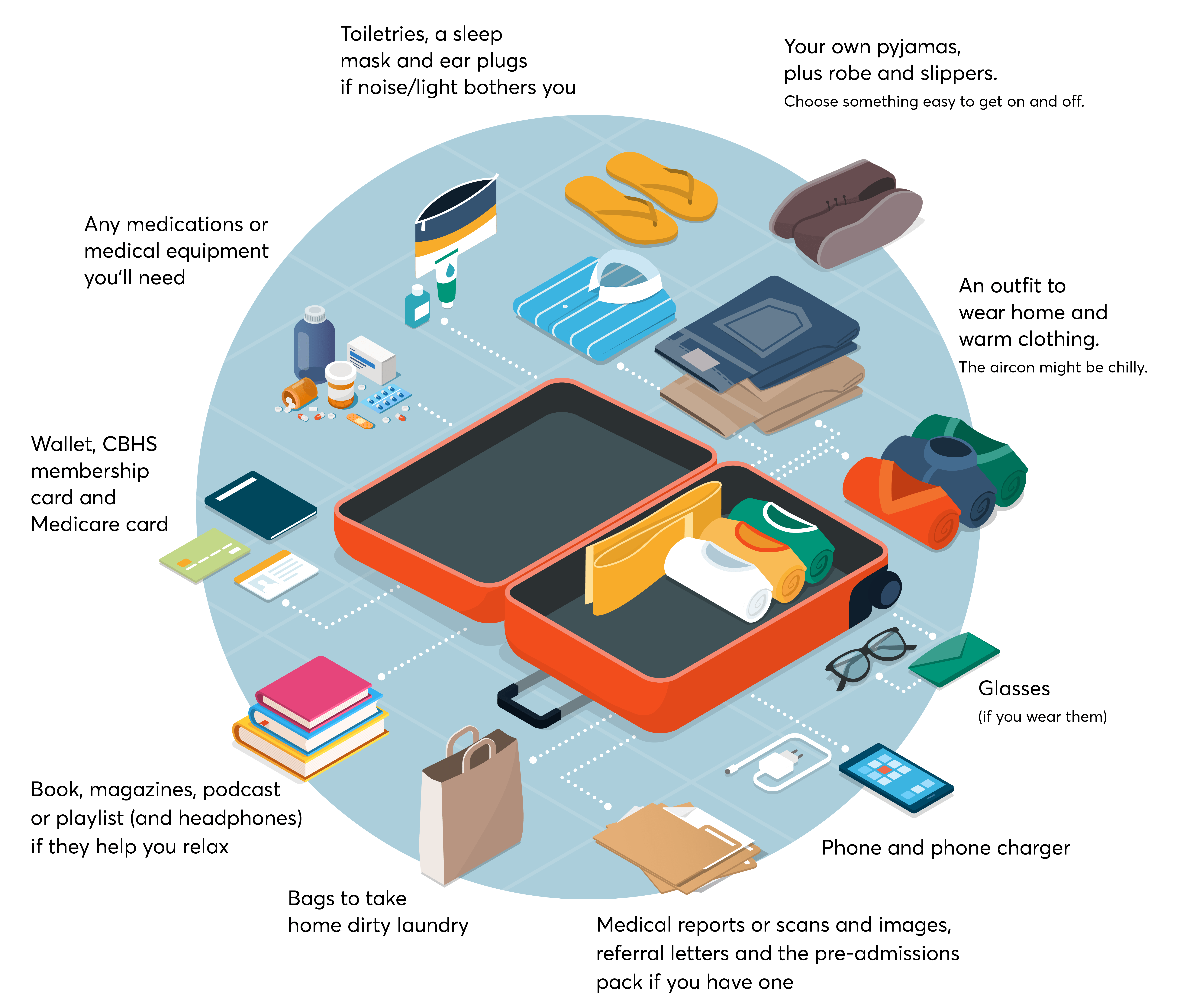 Packing the right things can make your hospital stay a lot more comfortable and will save any friends or family from making extra trips back and forth!
Your wallet and phone
CBHS membership card
Medicare card
Any medications or medical equipment you'll need
Medical reports or scans and images
Referral letters
Pre-admissions pack if you have one
Your phone charger
Glasses if you wear them
An outfit to wear home
Warm clothing. The aircon might be chilly.
Your own pyjamas, plus robe and slippers. Choose something easy to get on and off.
Your favourite snacks
Book, magazines, podcast or playlist (and headphones) if they help you relax
Toiletries
Sleep mask and ear plugs if noise/light bothers you
Water bottle
Bags to take home dirty laundry
Jewellery and valuables. You'll need to part with these for your surgery anyway.
Large amounts of cash
Alcohol
Anything unnecessary! Your room might be on the small side, and staff need to get themselves, equipment and sometimes even you in and out easily.
What to expect
Every hospital has its own routines and procedures. The pre-admissions pack from your chosen hospital is a good source of reading. It will contain useful information about the admissions process, visitors and visiting hours, meals and amenities such as TV and phones. Your hospital may charge you for extra items such as internet access, pay TV, non-emergency transportation that you request and other items. Contact your hospital direct if you'd like more details.
Going home

Your rehabilitation and recovery are just as important as your operation. Check out all the options available for recovery and rehabilitation at home, to see if they might be suitable for you.
We're here to support you in any way we can, so please don't hesitate to call us on 1300 586 462.
Generally, your hospital will bill us upfront. But you might be asked to pay any daily co-payment and any other out-of-pocket expenses on leaving the hospital.
Consult your specialist
Before you leave hospital, find out if you need to take any medications and get clear instructions on how many and how long to take these for.
It's a good idea to ask your specialist about your daily routine or work during recovery and rehabilitation. You are likely to have other questions, such as, do they recommend you go back to work or take time off during your recovery? Are they able to complete a medical certificate for your leave period from work?
Your specialist will probably arrange a follow-up appointment to take place some days or weeks after you're discharged from hospital. He or she will usually take time to discuss the risk of complications or issues (if any) that might arise after your operation or treatment. You might also discuss at-home nursing or help at home, if you require it.
Rehabilitation and recovery care at home
Your after-care and rehabilitation program might be as simple as resting at home for a few days, or you could need ongoing treatment such as physiotherapy, wound management, occupational therapy or nursing.
Your specialist will discuss with you any rehabilitation or nursing services you might need to help you recover at home. In many cases, these services will be covered up to applicable limits under your Extras or Package cover.
Your doctor must first approve your hospital substitute treatment program as clinically appropriate for your circumstances and an appropriate substitute for treatment that you would be fully covered for if received in hospital.
Support services such as meal and domestic help may be included.
Get in touch with CBHS on 1300 174 534 to see how we can support you in your recovery and rehab at home.
Claiming
Your doctor and hospital will usually bill us directly. If your doctor does not participate in our Access Gap Cover scheme, he or she will bill you. You then will need to submit your claim to Medicare using a two-way claim form. After Medicare has processed the claim, we will reimburse you with any payable benefits.
Contact us
Your health and happiness are at the heart of everything we do, so please call us on 1300 586 462 if you have any questions about your cover or an upcoming hospital stay.
All information contained in this article is intended for general information purposes only. The information provided should not be relied upon as medical advice and does not supersede or replace a consultation with a suitably qualified healthcare professional.