At CBHS we help you manage your health challenges. We believe in offering you the services, support and tools you need to live your best life.
Our Better Living Programs are available to support eligible members towards a healthier lifestyle. Each Better Living Program is subject to its own eligibility criteria.
Contact us for more information and to confirm your eligibility for a program.
Put the top medical minds to work.
Best Doctors gives you access to leading medical experts around the world, helping you to make more informed decisions about the diagnosis and treatment of your medical condition. The Best Doctors team use cutting-edge technology and rigorous processes to connect people facing a health problem with experts considered top in their field.
71%
of doctors concerned about medical errors due to being overworked.
75%
Best Doctors see changes in diagnosis in 75% of psychological and 15% of physical case reviews.
40%
Best Doctors find conservative treatments are at least as effective as surgery in 40% of orthopaedic reviews.
Source: Best Doctors
Specialist appointments can be costly. Depending on your level of cover, Best Doctors can offer you a second opinion on most conditions, illnesses, injuries or diseases without the need to outlay more doctors' fees. The doctor assigned to your case will consider all possible treatment options, empowering you to make an informed decision.
If your diagnosis changes, you can then choose to proceed with appropriate treatment with a local doctor. If nothing changes, you'll have the reassurance of knowing that your condition has been thoroughly re-examined. To find out if you are eligible, please contact Member Care on 1300 586 462.
Health conditions can be complex, so the right diagnosis and treatment are vital. With access to the best possible medical advice, you can feel confident that you are making well-informed decisions about your health.
The clinical team from Best Doctors is made up of independent specialists from Australia and around the world, all acknowledged as leaders in their respective fields. Best Doctors can only be voted in by their peers.
The findings of any review are confidential. They aren't shared with CBHS or with your own doctor unless you consent to share them, although many doctors find input from Best Doctors extremely helpful. You can choose if you want to follow any treatment recommendations.
If you prefer to see someone face to face, Best Doctors can put you in touch with two or more top-rated medical specialists.
Online answers to basic medical questions
Submit your non-urgent questions online and Best Doctors will get you a personal answer from an Australian GP within 48 hours.
Access mental health support at home
Best Doctors' Mental Health Navigator offers fast, confidential support that you can access from your own home.
A mental health nurse will complete an intake meeting with you, then collect any relevant medical records and refer you to a psychiatrist and/or clinical psychologist. They make a detailed assessment via video link then recommend follow-up treatment. The nurse guides your treatment and supports you for up to six months.
Nadia talks about how Mental Health Navigator helped her gain control over her depression and anxiety…
Treatment Decision Support – a new service for orthopedic conditions
If you have a hip, shoulder, knee or back condition, Treatment Decision Support provides quick and convenient access to orthopaedic experts who will review your case. The aim is to avoid unnecessary surgeries while providing you with evidence-based advice on the best treatment plan to remove pain and give you your quality of life back.
Nadia - one real patient's example journey
This is Nadia's journey. Your own treatment journey might look different.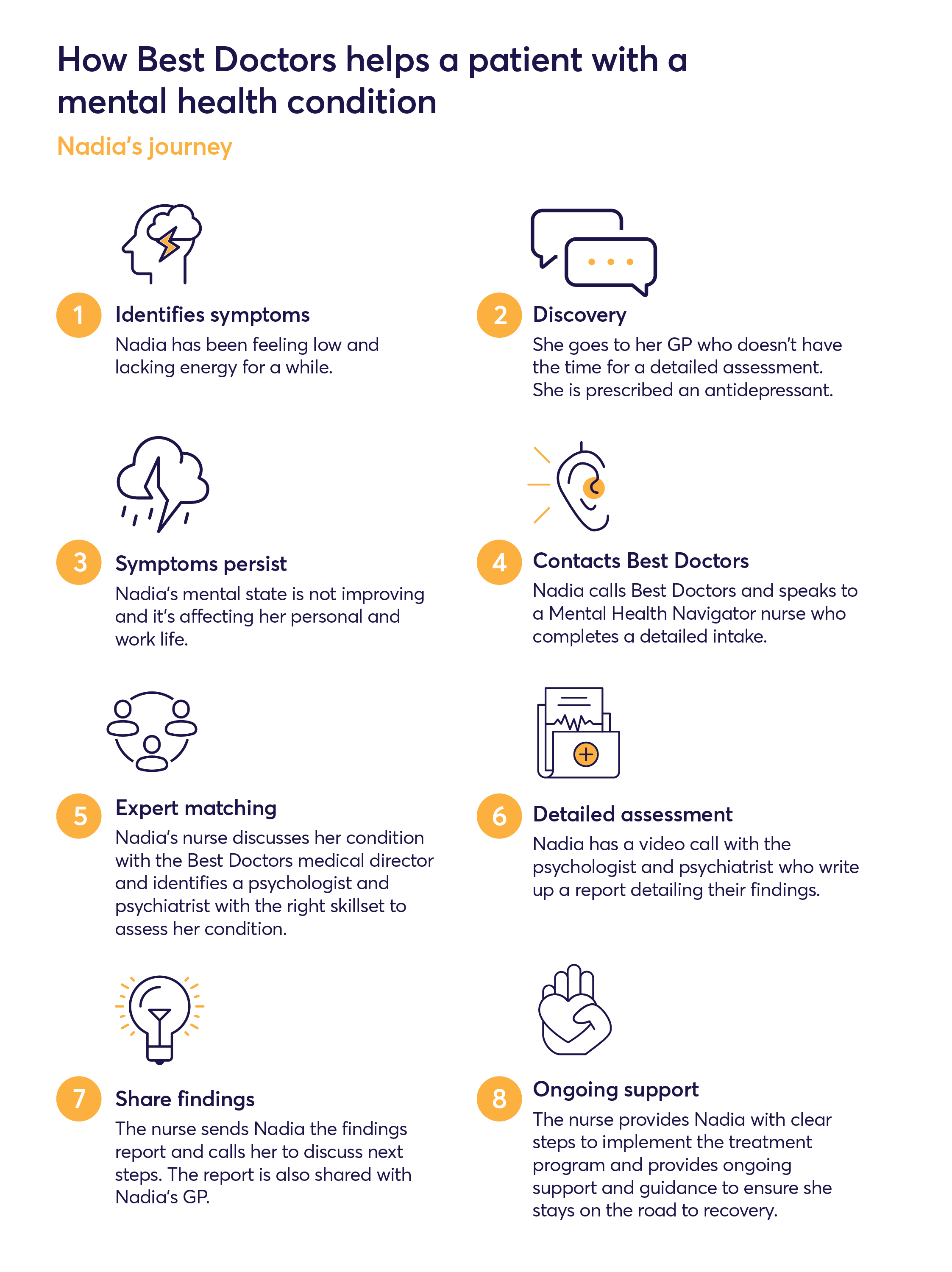 No charge for members with Gold Hospital cover
If you hold Gold Hospital cover, you can contact Best Doctors about a wide range of medical conditions (excluding emergency services) without any additional charge.
If you don't hold Gold Hospital cover and would like to consider upgrading, contact our Member Care team on 1300 586 462. One of our friendly staff members will be happy to help you.
After a battle with thyroid cancer, Evelyn lived cancer-free for 32 years – until a lung cancer diagnosis. "My head was spinning," she says. "I couldn't even think." Evelyn's case was reviewed by a Best Doctors pathologist at Boston's Brigham and Women's Hospital. After studying Evelyn's cancer cells and ordering additional tests, he concluded that Evelyn was experiencing a thyroid cancer recurrence, not lung cancer – even though the tumour was in her lung. Best Doctors put Evelyn's case in the hands of a nationally recognized thyroid cancer expert from Johns Hopkins. Today, instead of facing the deadliest of all cancers, Evelyn is dealing with a cancer she has fought before – and beaten. "Best Doctors makes you feel so confident. It's the best thing that ever happened to me."
Mark had been struggling with rheumatoid arthritis, but a variety of therapies enabled him to live a fairly normal life. After years of treatments, his muscles began to deteriorate. Walking and daily chores became difficult. Mark was forced to stop working. Due to the rare nature of muscle diseases, local doctors were unable to identify a cause. Then Mark's wife learned that Best Doctors was included in her insurance policy. Mark's case was sent to a rheumatologist and to a neurology expert from Harvard School of Medicine. The neurologist identified that Mark was experiencing a rare negative reaction to one of the arthritis drugs – a drug that had proven fatal in a similar case the expert had seen before. Mark's doctors agreed with the expert's findings and he was taken off the drug. Says Lisa, "Not only has Best Doctors helped Mark but potentially other people with similar problems."